Konjac noodles - rice grains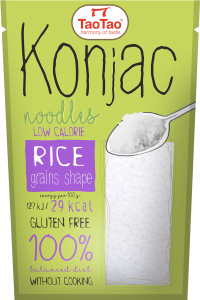 Our new product - Konjac noodles is perfect as an ingredient in a low-fat, low-calorie, and gluten – free diets, also for vegans and vegetarians.
It has neutral flavour and a semi-transparent colour. It's a great substitute for rice or classic noodles; can be served both hot and cold.
100% gluten-free, it contains only 29 calories per 100 gram.
A great addition to salads, fried courses, meat, and vegetable dishes. Pairs perfectly with fruit, seeds, and soys prouts.
Doesn't require cooking.

Send product information

Download photo

Description
GO TO THE STORE